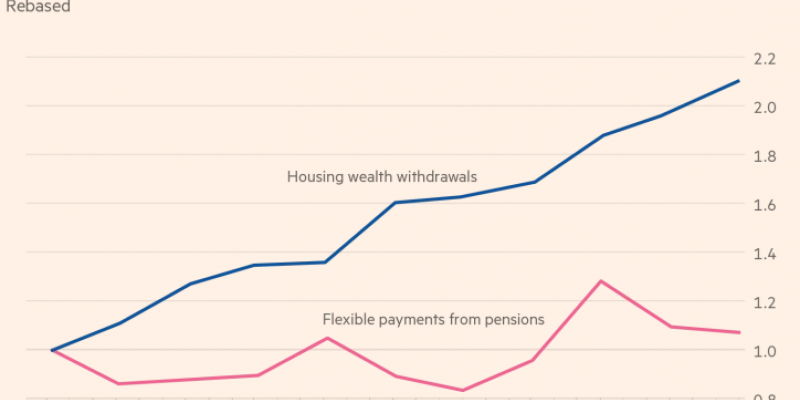 Since 2016, the equity release market has been growing at the average rate of 7.1 per cent each quarter. The amount of equity unlocked from people's homes more than doubled from £514m in the second quarter of 2016 to £1.08bn in the final quarter of 2018.
Lifetime mortgages now make up about a third of all mortgages taken out by homeowners in their mid-50s
The most popular equity release product is a lifetime mortgage. Older homeowners borrow money against their property, but do not have to pay interest on that loan in their lifetime. Instead, the interest is "rolled up" and is eventually repaid (along with the capital sum borrowed) when the house is sold after the owners die, or go into long-term care.
Years of rising property prices have driven this increase. Many people's properties are worth a lot more than they paid for them, building up equity that can be released via a specialist loan. The most common reasons given by the over-55s-for using equity release schemes are to fund retirement, make home improvements, consolidate debts and help their children and grandchildren get on the housing ladder.
Improving standards
Products are becoming more flexible. Both partners have the right to continue living in the home if one dies or goes into care, and may even be able to move property, subject to certain conditions. Some allow borrowers to repay interest or capital while they are still alive, to reduce the total amount owed by their estate when they die.
Reputable equity release providers also offer safeguards, including a "no negative equity" guarantee, which means borrowers will never owe more than the value of their home, regardless of what happens to house prices.
Remaining pitfalls
The interest on loans means that taking out an equity release scheme reduces the amount homeowners can leave for their loved ones. Nowadays, growing numbers of borrowers use the money to help family and friends with financial gifts at an earlier stage. However, it is important to be clear with relatives that taking out such a loan may mean that there is no equity remaining in your house for them to inherit on your death - the house may instead have to be sold, with none of the proceeds going to your heirs.
The magic of compound interest
The main problem with lifetime mortgages (equity release) is that, if you don't pay the interest each month, the debt grows at a faster and faster rate each year. If the mortgage interest rate is 7% then a £50,000 equity release mortgage will have grown to almost £100,000 in only ten years, and almost £200,000 in twenty years. That is the effect of compound interest, which many borrowers don't fully understand when they take out the mortgage.
We don't arrange equity release mortgages, but for other forms of mortgage advice just get in touch.
For further details see this excellent FT article (subscription to FT required): https://www.ft.com/content/2e33921c-5546-11e9-a3db-1fe89bedc16e?segmentId=3244cfff-ec81-8192-274e-ba1d3f036ca0